Living Multi® Optimal Men's Formula
Broad-based, multi-nutrient whole food formulas specifically designed to support men's health
Living Multi® Men's Formula contains high levels of zinc and selenium, as well as our unique Men's Blend with saw palmetto and lycopene to support prostate health*
Made with Living Nutrients® containing necessary cofactors required for proper absorption and utilization by the body, including amino acids, antioxidants, probiotics, prebiotics and organic acids
Delivers a rich blend of antioxidants derived from naturally grown and organic fruits and vegetables - antioxidants help your body deal with oxidative stress*
Provides a range of nutrients to support immune health, which is valuable to overall health and well being*
The Living Multi® products are the only multivitamins that provide Living Nutrients®. Living Nutrients are better for your body because they are more like food than isolated vitamins, but with guaranteed potency in a whole food source
What is the difference between Optimal and Men's Formula?
Nutrient

Living Multi - Optimal

Living Multi - Men's

Calcium
250mg - 25%DV
250mg - 25%DV
Iron
1mg - 6%DV
1mg - 6%DV
Folic Acid
400mcg - 100%DV
400mcg - 100%DV
Lycopene
5mg
7.5mg
Men's Blend
N/A

Saw Palmetto Extract
Tomato Extract (lycopene)
Rhododendron Extract
Pygeum africanum
Suggested Use:
Adults take 6 caplets per day (2 three times per day) depending on nutritional needs with water.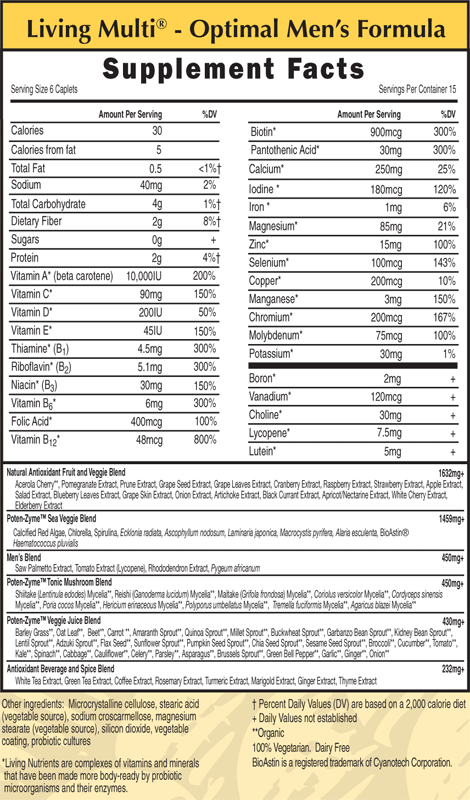 Testimonial:
"When it comes to producing high quality superfoods and supplements, Garden of Life is the cream of the crop. Available in a men's, women's and 'Optimal' formula, Garden of Life's Living Multi contains an impressive array of superfood ingredients. Over 80 different fruits, vegetables, sea vegetables, mushrooms, herbs, spices and extracts are included, many of which are organic. Probiotic microorganisms and enzymes are used in Living Multi blends to make the whole food vitamins easier to assimilate, providing the body with maximum absorption. All in all, Living Multi is a highly superior whole food supplement that is reasonably priced." - Ethan A. Huff, staff writer, NaturalNews.com
*These statements have not been evaluated by the Food and Drug Administration.
This product is not intended to diagnose, treat, cure, or prevent any disease.
Why purchase from HEALTHandMED?
Why purchase from HEALTHandMED?
We are extremely easy to get a hold of before and after the sale by calling us toll free at 1-888-649-3650. Outside of the U.S., call 1-435-275-4487. Or e-mail your questions to heathandmed@healthandmed.com
No Risk, No Buyer's Remorse, 14 Day Money Back Guarantee.
We have extra arrays, liners, and other foot bath accessories available.
Se Habla Español