Himalayan Salt Detoxer™
What does it do?
How is it to be used?
When is the best time to use the Himalayan Salt Detoxer™?
Where does the salt come from?
The Himalayan Salt Detoxer™ is both a pleasing, natural work of art and a powerful tool for rebalancing, revitalizing and gently cleansing the body and mind. When the Himalayan Salt Detoxer™ is lit, both gentle light and warmth radiate from the smooth salt surface.
This unique healing device has two parts: a two inch thick dome of pure crystalline Himalayan Pink Salt and a hand-crafted rosewood base that both supports the salt dome and houses two 25 Watt tubular bulbs attached to a dimmer switch.
For use at home or in a professional setting, the Himalayan Salt Detoxer™ is known to be inviting and intriguing. It is not only a beautiful object that enhances every possible environment, but it is also an amazing crystalline reservoir of positive energy and healing potential.
Himalayan Salt Dome measures 8" in diameter; Rosewood base measures 10" across
The Himalayan Salt Detoxer™ is unlike any detoxification product to hit the market. Unlike other, well-known detoxification processes that rely on colored charts to assure the consumer of their effectiveness, the Himalayan Salt Detoxer™ from Nature's Artifacts is based on firm scientific information about detoxification processes and how to maintain optimum health through natural cleansing. After using the Himalayan Salt Detoxer™, the consumer has personal evidence of the effect on the body. The work of the Himalayan Salt Detoxer™ is based on the concept of Reflexology, a natural healing art based on the principle that zones on the feet correspond to every part, gland and organ of the body. Some users of the Detoxer report actually tasting salt in their mouth. This may show that the cleansing process is moving through the body's tissues. Thus the Himalayan Salt Detoxer™ (patent pending) offers the consumer a unique, safe and effective cleansing process that, when directions are followed, can be used repeatedly to achieve many of the health benefits associated with cleansing regimens.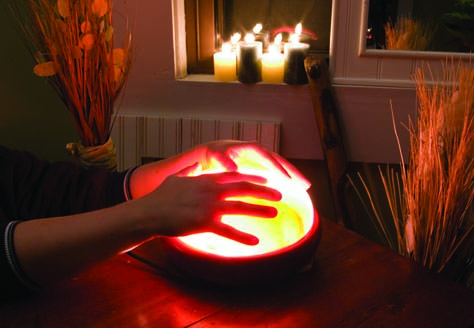 What does it do?
Himalayan salt works in a number of ways:
The warmth of the stone causes the feet to sweat, allowing the salt to purify and cleanse. Toxins are pulled out and minerals pulled in, thus decreasing unhealthy acidity. This also helps ease tiredness, aching, and symptoms of stress caused by over-exertion.
It is the source of many vital nutrients. Himalayan salt may contain as many as 84 natural minerals vital to health that can be absorbed through the skin.
Also, the Himalayan Salt Detoxer™ softens and gently exfoliates the skin as it binds with the salt through moisture on the hands and feet.
When the Himalayan Salt Detoxer™ is warmed, the salt helps release negative ions which are anti-microbial, air purifying, and skin purifying. This promotes a sense of well being. It also purifies the air by binding with positive ions to help settle dust and allergens.
Like gem-quality stones, the powerful crystalline structure works by opening up energy pathways, dispelling negative energy, improving both concentration and circulation, harmonizing thought patterns while the amplifying life force. This helps to maintain health and well-being.
The Himalayan Salt Detoxer™ is the perfect reminder of healing qualities we experience at the ocean. It assists in the realignment of the body's subtle magnetic energy field to help facilitate healthier cellular development and more cohesive thinking. Some say there is no thought or action without the presence of salt in the body.
The Himalayan Salt Detoxer™ helps to re-attune the body to the Schumann resonance, sometimes called the heart beat of Mother Earth. This helps ease nervousness, insomnia, and lack of concentration while helping to clear cancer causing free radicals from the body.
It is a source of natural color therapy. The orange tones calm and help you feel more secure, the yellows brighten your mind, the reds strengthen, the pink inspires loving feelings, the white cleanses and the brown tones balance and ground you.
How is it to be used?
The Himalayan Salt Detoxer™ is used for foot detoxification, localized skincare treatments, manicures and pedicures. Use it…
for a manicure or pedicure. Rest one hand or foot on the Himalayan Salt Detoxer™ while attending to the other hand or foot.
to calm and ground yourself after a busy day.
to re-invigorate tired feet and legs after work or exercise.
to reduce emotional stress anytime.
to lessen the pain of carpal tunnel or arthritic conditions.
When is the best time to use the Himalayan Salt Detoxer™?
The Himalayan Salt Detoxer™ can be enjoyed at any time. Many of our clients enjoy it:
to soothe nerves after a day at the office.
to feel grounded after air travel.
to feel more balanced when working on computers.
after strenuous sports to relax and recharge.
to help fully integrate the body/mind shifts after yoga.
Traditionally, full moon times are considered best for strengthening energetic weaknesses and new moon times more for deeper detoxification.
Where does the salt come from?
It is found at the base of the Himalayan mountain, in the valleys between the Indus and Jhelum rivers in northern Pakistan, in one of the cradles of Ayurvedic medicine. The salt beds are 1,600 feet deep and 186 miles long.
†These statements have not been evaluated by the Food and Drug Administration.
This product is not intended to diagnose, treat, cure, or prevent any disease.
Other Himalayan Salt Products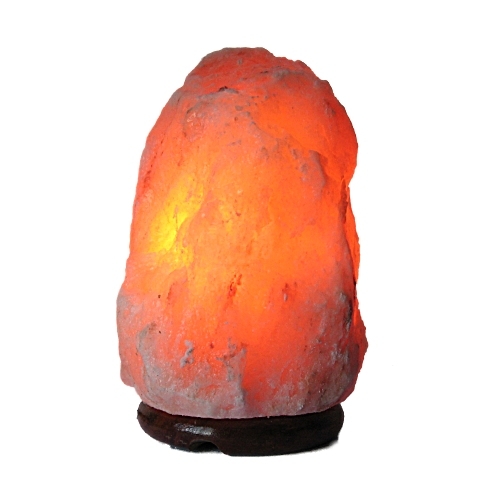 Deep within the foothills of the Himalayan Mountains is the healthiest salt in the world. Talented craftsmen and artists carefully select, hand-carve and shape the unique salt crystals that are used to create Salt Crystal Lamps. Every Salt Crystal Lamp is an individual work-of-art and unique in its own style, color, design, shape and size. Instead of water cutting, like some other European and Asian salt lamp manufacturers, our Himalayan Salt Crystal Lamps are carefully selected, hand-carved and then assembled with either a hardwood or onyx base by skilled craftsmen. The natural beauty of our Himalayan Salt Crystal Lamps are the perfect accent to any room in your home, office, beauty salon, cafe, restaurant, bar, nightclub or retail store. The soft soothing illumination of the glowing light will create an enchanting environment that will freshen and clean the air, inspire your imagination and awaken your senses. Other advantages of our Himalayan Salt Lamps include:
Neutralize positively charged contaminants such as allergy and asthma triggers, mold and mildew, pet odors, etc. through the natural release of negative ions into the air.
Make a wonderful therapeutic addition to any room including nurseries, smoking areas, next to computers, nursing homes, spa and yoga spaces and hospital rooms
Make a very soothing nightlight
Never need a filter change
Use only a little electricity with a low wattage bulb
Wall outlet and USB powered lamps are available
Save BIG with special 2, 4 and 6-pack deals and accent and purify your work or living space in multiple locations.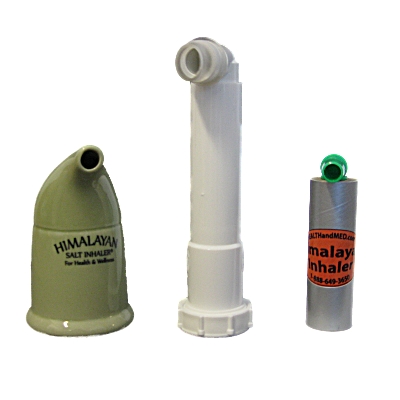 Himalayan Salt Inhaler: Try what Dr. Oz called one of the two alternative health secrets of 2010 on the Oprah show. Just a few minutes of daily use can be of benefit not only to asthma, hay fever, allergy sufferers and smokers, but it may also help relieve the symptoms of persistent coughing, shortness of breath, and wheeziness during colds, flu and other infections. It may also help to diminish the respiratory symptoms caused by air pollution, dust, smog, mold, mildew, pet dander and other allergens.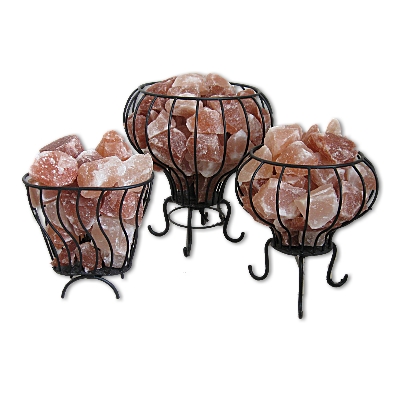 We also have special basket lamps featuring chunks of Himalayan salt in a glowing and ambient mound:
Prosperity Basket: ~13 inches high and ~19 lbs of salt chunks
SPA Basket-Tapered: ~12 inches high, 8 inches diameter and ~10 lbs of salt chunks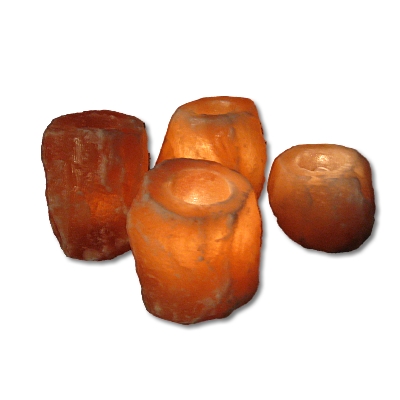 Himalayan Salt Candle Holders: varied shapes and heights
Why purchase from HEALTHandMED?
We are extremely easy to get ahold of before and after the sale if you have any questions by calling us toll free at1-888-649-3650. Outside of the U.S., call 1-435-275-4487.Or e-mail your questions to healthandmed@healthandmed.com
No Risk No Buyer's Remorse 14 Day Money Back Guarantee.