Free Shipping to the Mainland US - International Buyers Must Call for a Shipping Quote
Description:
This newly designed model now includes the latest full body roller system + FIR Infrared Therapy. The roller system is a state of the art 9 roller assembly, with 5 rollers for the back / neck section, and 4 rollers for the leg section. The heating system is made of 9 Grade A Jade Stone Rollers, each heated, plus FIR Infrared Carbon Fiber Heating Panels. This advanced design has been proven to be most effective. Certified for legal use in any home or office in the US or Canada. This Jade bed comes with a 3 year warranty on the structure and a 1 year warranty on the electronics.
Included with this purchase is The Original Backnobber® II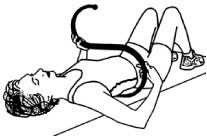 The Original Backnobber®II is constructed of durable, fiberglass reinforced Nylon and carries a full, satisfaction guarantee. Because this tool seperates into two smaller pieces, it's great for travel.

The Original Backnobber®II is used by hooking one of its curves over a shoulder or under an arm and using its leverage to apply firm, deep pressure to knots in the muscles of the neck, shoulder, upper and lower back and to nearly any other location where muscle soreness may occur. The shape allows you to move the tool while keeping your body in place, helping avoid putting additional strain on already sore muscles. Most other self-care tools don't.
This may be used to implement techniques in Trigger Point Therapy for Low Back Pain Self-Treatment Workbook.