Himalayan Salt Refill for Ceramic Inhaler®
1 Lb (453.6) gram kit is enough for six refills
150 grams kit is enough for two refills
Himalayan Pink Salt Crystals (the Healthiest Natural Salt in the World), mined from deep inside the Himalayan Mountains. Refill your ceramic inhaler with fresh Himalayan Salt at your desire.
ACTIVE SUBSTANCE:
Premium Himalayan Pink Salt Crystals, mined from deep within the Himalayan Mountains, uncontaminated by human pollution. The manufacturer recommends replacing the salt every 3 months with continuous use in order to ensure a fresh source of activated negative ions. Otherwise, with occasional use, the Himalayan Salt Crystals should remain active for one year or more.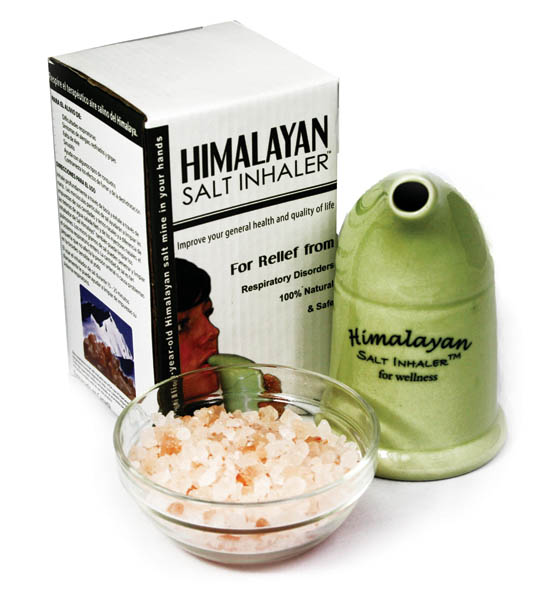 Refillable Ceramic Himalayan Salt Inhaler: $34.95 each
Negative Ions and Mood Elevation
It's not just coincidence that some of the most invigorating places on earth, like waterfalls, crashing surf and mountain tops also have the highest levels of negative ions per cubic centimeter. Negative ions generate clean and purified air that can have profound positive effects on a biochemical level. Living beings become excited before a thunderstorm with the enhanced levels of negative ions. The sensation is of increased alertness and the feeling of "being alive." Dr. Clarence Hansell discovered the behavioral effects of air ionization when he noticed that a colleague who worked near an electrostatic generator exhibited different behavior depending on the setting. When the generator produced negative ions, the colleague worked with an alert and good spirited demeanor. When the generator was set for positive ions, he was ill-tempered, impolite and generally in a bad mood. Ions can act on our ability to utilize oxygen with the most positive effects from negative ions. Negative ions in the blood stream speed the delivery of oxygen throughout the body, benefiting our cells and tissues, while providing an energized euphoric feeling.
Negative Ions and Healing
Special ionized rooms have also been used in treating burn victims at Philadelphia's Northeastern Hospital, as it was found that negative ions helped tranquilize those in pain. Dr. Robert McGowan also noted that "Negative ions make burns dry out faster, heal faster and with less scarring. They also reduce the need for skin grafting. They make the patient more optimistic. He sleeps better." Himalayan salt rooms have been created to reproduce the therapeutic effects of naturally occurring salt caves, providing for easy breathing from allergy-related and other respiratory ailments. The occupier is surrounded by negative ions, fully enjoying the therapeutic benefits.
Whether using a salt inhaler or a Himalayan salt lamp, there are many ways to clean the air around us and improve our health with negative ions. The ease of use of natural negative ionizers makes them an easy choice.
Why purchase from HEALTHandMED?
We are very easy to contact before and after the sale by calling toll free 1-888-649-3650. Outside of the U.S. call 1-435-275-4487. You can also email us with any questions.
No Risk No Buyer's Remorse 14 Day Money Back Guarantee