4-Pack HIMALAYAN SALT CRYSTAL LAMP
Small with Wood Base
SAVE 30% on FOUR Salt Crystal Lamps For Multi-Room or Other Decorating Ideas
Weight (each): 4-6 lbs. (2-3 kg.)
Height: 6-7 in. (15-18 cm.)
"My 4-year old great nephew, who has asthma and huge problems with allergies slept all the way through the night for the first time in over a year after having just one little Himalayan salt lamp in his bedroom for only one day."
- Laurie (Chicago, IL)
Salt Lamp includes:
Hand-shaped Himalayan Salt Crystal
Wooden base
UL approved electrical cord (120V) with on/off switch and spring clip for easy bulb changes
15 Watt Bulb
Purify indoor air with nature's negative ionizer.
Deep within the foothills of the Himalayan Mountains is the purest salt in the world. Talented craftsmen and artists carefully select, hand-carve and shape the unique salt crystals that are used to create our Salt Crystal Lamps. Every Salt Crystal Lamp is an individual work-of-art and unique in its own style, color, design, shape and size. Instead of water cutting, like some other European and Asian salt lamp manufacturers, your Himalayan Salt Crystal Lamp is carefully selected, hand-carved and then assembled with a base of either hardwood or onyx by skilled craftsmen. The natural beauty of your Himalayan Salt Crystal Lamp is the perfect accent to any room in your home, office, beauty salon, cafe, restaurant, bar, nightclub or retail store. The soft soothing illumination of the glowing light will create an enchanting environment that will freshen and clean the air, inspire your imagination and awaken your senses.
Other advantages of this Himalayan Salt Lamp include:
Neutralizes positively charged contaminants such as allergy and asthma triggers, mold and mildew, pet odors, etc. through the natural release of negative ions into the air.
Makes a wonderful therapeutic addition to any room including nurseries, smoking areas, next to computers, nursing homes, spa and yoga spaces and hospital rooms
Makes a very soothing nightlight
Never needs a filter change
Uses only a little electricity with a low wattage bulb
Negative Ions vs. Filter-Type Air Cleaner
Negative ions cleanse the air by attaching themselves to dust, pollen or other particulates which in turn causes these particulates to stick together and fall to the ground, removing them from the air. An air cleaner requires a blower to suck the surrounding air through the filter, while still allowing smaller particles through. The resulting forced output can actually stir up more particulates. With a salt lamp negative ions are naturally generated and can spread throughout and purify a room without disturbing air flow. The reaction of moisture with the surface of Himalayan salt increases the level of negative ions, which can be released even further with the heat from a bulb. Since Himalayan salt is hygroscopic, the lamp should be left on all of the time in humid areas.
Negative Ions and Mood Elevation
It's not just coincidence that some of the most invigorating places on earth, like waterfalls, crashing surf and mountain tops also have the highest levels of negative ions per cubic centimeter. Negative ions generate clean and purified air that can have profound positive effects on a biochemical level. Living beings become excited before a thunderstorm with the enhanced levels of negative ions. The sensation is of increased alertness and the feeling of "being alive." Dr. Clarence Hansell discovered the behavioral effects of air ionization when he noticed that a colleague who worked near an electrostatic generator exhibited different behavior depending on the setting. When the generator produced negative ions, the colleague worked with an alert and good spirited demeanor. When the generator was set for positive ions, he was ill-tempered, impolite and generally in a bad mood. Ions can act on our ability to utilize oxygen with the most positive effects from negative ions. Negative ions in the blood stream speed the delivery of oxygen throughout the body, benefiting our cells and tissues, while providing an energized euphoric feeling.
Negative Ions and Healing
Special ionized rooms have also been used in treating burn victims at Philadelphia's Northeastern Hospital as it was found that negative ions helped tranquilize those in pain. Dr. Robert McGowan also noted that "Negative ions make burns dry out faster, heal faster and with less scarring. They also reduce the need for skin grafting. They make the patient more optimistic. He sleeps better." Himalayan salt rooms have been created to reproduce the therapeutic effects of naturally occurring salt caves, providing for easy breathing from allergy-related and other respiratory ailments. The occupier is surrounded by negative ions, fully enjoying the therapeutic benefits.
Other Himalayan Salt Products
Himalayan Salt Lamps - More Sizes
Save BIG with special 2, 4 and 6-pack deals and accent and purify your work or living space in multiple locations.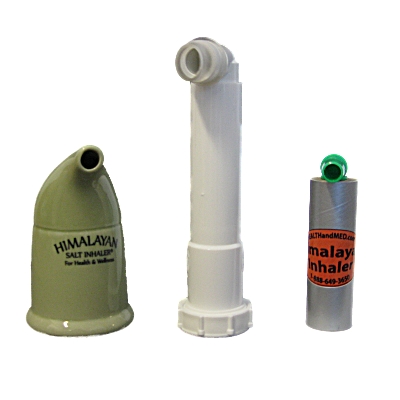 Himalayan Salt Inhaler: Try what Dr. Oz called one of the two alternative health secrets of 2010 on the Oprah show. Just a few minutes of daily use can be of benefit not only to asthma, hay fever, allergy sufferers and smokers, but it may also help relieve the symptoms of persistent coughing, shortness of breath, and wheeziness during colds, flu and other infections. It may also help to diminish the respiratory symptoms caused by air pollution, dust, smog, mold, mildew, pet dander and other allergens.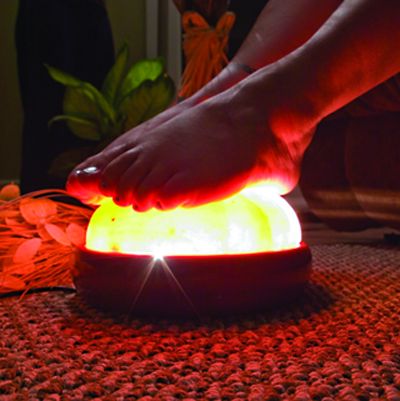 Himalayan Salt Detoxer™: Your feet will be happy resting on this warm Himalayan Salt Detoxer™. When the Himalayan Salt Detoxer™ is warmed, the salt helps release negative ions which are anti-microbial, air purifying and skin purifying and which promote a sense of well being. Purification of the air by the neutralizing of positive ions helps dust and allergens to settle. The warmth of the salt stone causes the feet to sweat, allowing the salt to purify and cleanse. Toxins are pulled out and minerals pulled in, thus decreasing unhealthy acidity. This also helps ease tiredness, aching, and symptoms of stress caused by over-exertion. As well, the Himalayan Salt Detoxer™ softens and gently exfoliates the skin as it binds with the salt through the moisture on the hands and feet. It is the source of many vital nutrients. Himalayan salt may contain as many as 84 natural minerals vital to health that can be absorbed through the skin.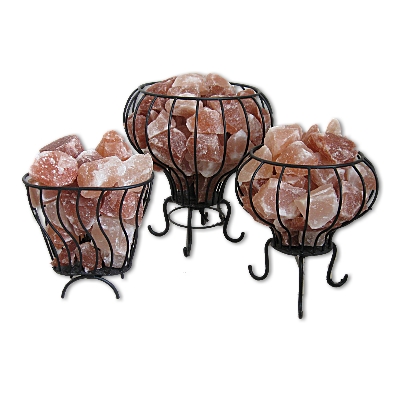 We also have special basket lamps featuring chunks of Himalayan salt in a glowing and ambient mound:
Prosperity Basket: ~13 inches high and ~19 lbs of salt chunks
SPA Basket-Tapered: ~12 inches high, 8 inches diameter and ~10 lbs of salt chunks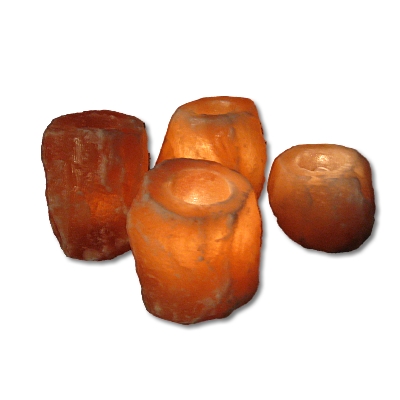 Himalayan Salt Candle Holders: varied shapes and heights
Why purchase from HEALTHandMED?
We are very easy to contact before and after the sale by calling toll free 1-888-649-3650. Outside of the U.S. call 1-435-275-4487. You can also email us with any questions.
No Risk No Buyer's Remorse 14 Day Money Back Guarantee