Free Shipping to the Continental US and Canada - International Buyers Must Call for a Shipping Quote
Includes full lifetime warranty on parts and 5 years on labor
M.A.X. will make both strong acid and alkaline water for anyone with ANY water source. Powerful enough to be used for disinfecting by doctors, hospitals, dentists, spas, vets, restaurants, the food industry, and home use. The M.A.X. rocks. Literally! It's the first ionizer ever to use mineral rich nutritional Himalayan rock salt to create acid water. Unlike ionizers that use bleach/salt injection and leave toxic residue on your plates when you produce drinking water, this residue is healthy for you because it has over 80 minerals. Simply drop a rock of Himalayan Salt into the basket and chose the acid water setting and you are able to make acid water that has been 3rd party verified to kill e-coli and Staph on contact! All natural and non-toxic!

pH = 1.8 to 12.1
ORP = +1200 to -920

Commercial Grade
Unlimited flow time able to withstand commercial grade usage.

7 Titanium Plates-Electrodes
Seven of the largest, Nano-coated, titanium plates on the world market. A full 364 square inches total ionization surface area that can outperform even an 11-plate ionizer. Chanson titanium electrode plates have been independently lab tested at 99.998 % pure titanium! Larger plates allow for better water flow.

The M.A.X. Rocks. Literally!
First Himalayan rock salt injection system for an ionizer!
At least 50% of the benefit of owning a water ionizer is, the prized 3 pH acid water (from 2.7 to 3.3 PH is the most potent acid water); which has hundreds of uses and will reduce household chemical and cleaner expense by 50%, and is absolutely miraculous for the skin. In order to make this strong acid water, your source water must have all the right ingredients. 30% of USA customers cannot achieve this strong acid water regardless of which brand ionizer they have, due to source water issues. Some other brands use chemical injections to create this acid water. We are strongly against this because those chemicals never fully rinse out of the machine, and end up in your drinking water.
Now 100% of MAX users will be able to achieve this super acid water, by simply dropping a rock of Himalayan Salt into the basket and choosing the acid water setting. In addition, other ionizers that can reach a 3 pH and below can only do so producing water at a slow trickle. This can make filling up a spray bottle for home use a long and arduous task. The MAX can make this strong acid water at up to ½ Liter per minute! Super acid water- no chemicals- no dangerous fumes, no toxic warnings, and ready to go right away! Green cleaning with acid water is a golden opportunity, a small miracle that shouldn't be passed up. Who would imagine a product that could disinfect hospitals, homes, floors, sinks, toilets, and still be safe to spray on your skin, wounds and food?

RAD Self-cleaning System
Radial Action De-calcification is another breakthrough utilized on the Chanson Max. The number one enemy of any ionizer is calcium build-up inside the plate cell. Many water ionizers will lose up to 30% performance in the first 3 months of use due to calcium buildup! The RAD self-clean system will come to be legendary for its superior performance, even in the hardest of waters. Tested in 1300 ppm TDS water!! (1300ppm is about 4 times harder than average USA hard water)
Onboard Flow Control Valve
Want it stronger? You're in charge! Use your side control flow valve to increase or decrease flow rate and water strength. No metals used, this is an advanced Ceramic valve that will perform year in and year out. There is nothing more important on a water ionizer than being able to adjust the water flow speed to get the best results. Our side mounted ceramic flow valve is silky smooth and the first of its kind in the ionizer industry.
Only 150 Watts Maximum Power Needed
We could easily make an ionizer with any power level, but Chanson engineers have learned in over 20 years of servicing and manufacturing ionizers that you can't have both high wattage and long plate life. It has to be one or the other. Anything over 180 watts will dramatically reduce the life of the plates, regardless of plate quality or coating methods. So we've designed a low wattage ionizer, with superior ionization and long plate life. The Chanson MAX uses an advanced electronic delivery system that allows lower power usage, which extends the life of the plates and easily performs as well or better than ionizers using up to 500 watts and 9 plates! Lower power means less heat, and less heat means longer life to all components inside the ionizer.
Non-heat Generating Power Supply.
This is not simply SMPS, this is 4th generation SMPS, the same power supply used in the newest 3D flat panel TV's. The MAX can run all day long at the strongest power level without overheating, even at slow water flow levels. The first three generations of SMPS used by other ionizer assemblers were full of defects and problems, models we tested overheated in less than one hour regardless of seller's advertisements. This 4th generation SMPS is perfected, giving the Chanson Max a distinct advantage in runtime and power delivery.
Mineral Free Filter
5 micron Silver impregnated carbon block filter. No secret or dangerous unproven ingredients in our filters- EVER! Onboard filter is super easy to change.
Excellent Flow Rate of ½ gallon per minute or 2 liters per minute.
Beware of companies claiming higher flow rates they are usually combining the total flow of the acid and alkaline waters which is misleading. Some other companies also quote the flow capacity of the machine based on nothing but the amount of water it can produce, NOT the quality. Ex: the Chanson Miracle can flow water at 8 Liters per minute, but the ORP will be so weak it will be ineffective. 2 Liters per minute is our most effective flow rate from the alkaline spout with at least -200 ORP.
Superior Performance
Max PH= 1.8 to 12.1, Max ORP= -920 - Water tested in Laguna Hills, Ca.
Auto Memory Save
Saves your settings even after power outages. Set it once and forget about it.
Advanced CPU
Computer chip programmed for perfect water at every setting. CPU even monitors the plate conditions!
Full Display
pH, water flow speed, filter life, speaker volume level and setting number.
pH Settings
Fully adjustable settings at every pH level with additional micro-adjustments. Three standard acidic levels, four alkaline levels, and one filtered only level, each level is micro-adjustable. Want ph9.3 instead of 9.5? Now it's right at your fingertips.
Size Matters
M.A.X. is one of the smallest seven plate countertop ionizers in the world so we take up less of your counter space. You may not be able to tell but some of the brands you may be considering are HUGE and can even block your access to out lets and opening cupboards.
Fully Waterproof
Display is all "touch panel", no buttons. Beautiful glossy black and silver finish compliments any kitchen.
Easy Installation
Can be installed with standard included faucet diverter or, direct ¼" tube or, with Chanson G2 accessory faucet. All are super easy installs and we include a video to show walk you through each step. Click the "Videos" tab above to see installation videos.
Includes pH test kit, Himalayan rock salt sample, faucet adapter, DVD, owner's manual, tubing, and connectors for standard faucet install, citric acid.
Demand the M.A.X. You may not need all the features but you'll WANT them.
Features
Hot water sensor and auto alarm
Low and high water flow alarms to let you know where you are not getting maximum ionization.
Adjustable self cleaning intervals can be set to self clean at every 30, 40, 50, 60, 70 or 80 liters of usage. This allows customers in low or soft water areas or those with Reverse Osmosis filters to reduce cleaning frequency.
The M.A.X speaks to you for all functions and settings with adjustable volume or on off function.
Change filter notification.
Thoroughly tested and approved by both UL and CE organizations.
BPA, Lead, Mercury, Cadmium and Iron free materials- ROHS compliant.
Ability to do periodic Citric acid cleanings without needing to purchase any special filters or products. Chanson's permanent filter cup can be filled with the cleaning solution, and run effectively to clean throughout the machine. Eventually all water ionizers need this cleaning, regardless of how well the auto cleaning cycle works.
Integrated wall mount inserts on back of unit.
Quick connect plumbing for super easy install and minimal water leak potential.
Super lightweight and portable, weighs less than 9 pounds.
Specs
Dimensions
Height 12" x Width 9.75" x Depth 5.5"
Effective Flow Rate
2 - 2.5 liters per minute at 45 PSI water pressure
pH Levels
1.8 to 12.1 in Laguna Hills CA source water
ORP Levels
+1,200 to -920
Number of Plates
7 at 3.5" x 7.25" (364 square cm total surface area), 99.989% pure titanium with Chanson exclusive platinum clan nano coating
Weight
9.1 pounds
Filter Life
20000 L (approx.: 10 - 12 month of use)
Temperatures
98 degrees F
Water Pressure
8 - 70 PSI
Power Consumption
50-125 watts
Filter
5 micron silver impregnated coconut shell carbon bloc
FAQ
Q. Does the Miracle M.A.X. still need a pre-filter?
A. Yes, like all Chanson ionizers, the M.A.X. uses the JP6000 filter and we recommend prefiltration for all customers. Ionization causes the water molecule to be smaller, potentially concentrating any contaminates. Prefiltration removes a greater percentage of chlorine, chloramines, fluoride, arsenic, heavy metals, bacteria, pharmaceuticals and other contaminates than any brand of ionizers onboard filter can by itself. Buy one to protect your health and always encourage your customers to do so.
Q. Do we need ionizer armor with the Miracle M.A.X. advanced cleaning system?
A. Yes. Ionizer armor will help protect your drinking glasses from the white build up of calcium.
Why Chanson?
What is the most important consideration when choosing which water ionizer to purchase? When it comes to the water that you drink, there is nothing else more important than the manufacturer behind the product.

Here are the top reasons why customers choose Chanson ionizers:

Chanson is a 30+ year old Taiwanese water filter manufacturer and is a well-known household name in Taiwan with a stellar reputation for quality and affordability. Chanson operate 400+ retail stores throughout the world.


Chanson is the only water ionizer manufacturer that produces 100% health products. In contrast, our competitors do not focus entirely on health products. For example, Kangen is owned by Toyo rubber tire company. Buying from a health company is safer!


Chanson is the product manufacturer and not a parts assembler like many of our competitors. We have the ISO 9001 certification and will soon have the ISO 14001, we are CE certified and will soon have a UL listing. We have multiple awards and certificates including the coveted Good Design award. We have a NSF certification on our filters and we are proud members of the Water Quality Association.


Chanson's advanced circuitry and electronics not only provide some of the most powerful ionizers on the market but also the most compact and space saving, our counter top models are up to 60% smaller than our competitors with the same and often times better performance.


They possess a number of patents including our "Nano coating" process which provides an extremely dense and conductive electrode surface which creates superior ionization.


They test 100% of their ionizers before shipping to insure the highest customer satisfaction and lowest defect rates.


They provide a full line of advanced alkaline water ionizers, water filters, filter replacements and cartridges to meet your families' water, ionization and purification needs.


They provide extensive training, education and product knowledge to their dealers on all our water ionizing products. Therefore, dealers can provide installation and exceptional customer service. Their dealers are the most knowledgeable in the industry and can answer any questions you may have, regarding installation, technical support, and general knowledge. We believe in providing the best customer service possible so you can be sure once you purchase a Chanson Water® Ionizer you have the best in the industry are just a phone call away.


They have a price protection policy (we try to stay below market rate on all of our products) to insure our customers get the best prices and our dealers are protected from unfair practices.


They have the best Lifetime Warranty in the industry. The VS-70, Miracle, and Miracle M.A.X. include full lifetime warranties on parts and a 5 year warranty on labor.


They are a company of ethics and integrity and will never sacrifice quality for profits.

We look forward to and welcome your feedback on all of our products

ISO 9001 certificate shown, is for our manufacturing plant in Taiwan.

---
Videos
(Click the arrows on the side of the player to view other videos in the Miracle M.A.X. Installation Guide Playlist)
Part 1: Unpacking and Installation Methods
Part 2: Setting up the Ionizer for Installation
Part 3: Faucet Diverter Method
Part 4: G2 Faucet Method
Part 5: 3 Other Installation Methods
Part 6: Undersink Method
Part 7: Adjustments
The FIR-Real portable infrared sauna provides deep penetrating therapeutic heat through the use of far infrared rays.
What Makes the FIR-Real™ Sauna Superior To Other FIR Saunas?
Virtually 100% of the infrared emitted from the FIR-Real™ heaters is far infrared between 4 and 14 µm, the beneficial range for humans.
Includes two powerful 800 Watt ceramic heaters (1600 Watts total)
Provides full FIR heat output in 1 minute (Not 10 minutes like most FIR saunas)
Ideal Temperature Range, between 160°F to 175°F (70°C to 80°C), for activating blood and lymph circulation and metabolism
Constant FIR emission
Provides even distribution of heat
Folding chair with 220 lb capacity included
Special reflective fabric made from polypropylene cloth (same as your car sun shade)

Does not absorb direct heat energy
Does not absorb any sweat
Does not allow any bacterial buildup even after years of use
Does not allow any odors even after years of use
Non-gassing
Easy to clean

Extra large size tent
Portable: easy to set up or dismantle in just a few minutes
Lightweight: Extra zippers for hands allow user to keep hands outside of sauna if preferred (for example, to hold a magazine)
Includes foam floor pad
Low operating cost -- approximately 5¢ for 30 min. session
Completely safe, even with long therapy sessions. It has the passed the CE (European Conformity) and GS (Geprüfte Sicherheit) electrical safety standards.
HEALTHandMED.com donates $15 from every FIR-Real Portable Sauna purchased to help Ginger Roth, a 12 year old girl with cerebral palsy.
Look at all the health benefits from infrared therapy!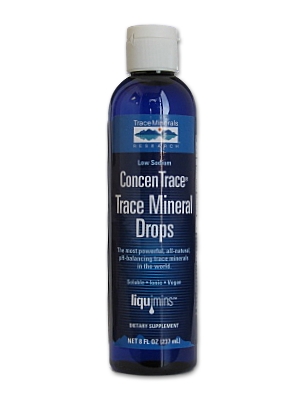 Low sodium ConcenTrace® Trace Mineral Drops are the most powerful natural health mineral supplements in the world. It's impossible to underestimate the importance of minerals and trace minerals for the human body. They are the catalysts for all the vitamins and other nutrients your body uses for developing and maintaining good health.

ConcenTrace® captures the perfect balance of those minerals. Using ConcenTrace® every day (mix with juice, food or remineralize purified water) will help renew and energize your body's entire electrical system. You'll have more energy and will generally feel better.

As a Daily Supplement: 1/4-1/2 teaspoon, once or twice daily. Mix with any juice or food at mealtimes to mask the concentrated mineral flavor, or take straight, followed with a glass of juice or water. At 1/2 teaspoon daily, 8 oz.= 3 month supply. Increased dosages are safe if needed or desired, but larger amounts may have a laxative effect.
What Makes the FIR-Real™ Sauna Better Than Steam Saunas?
The FIR-Real™ sauna emits far infrared rays, which are part of the sun's natural spectrum, just beyond visible red. It warms the body directly instead of heating the air in the enclosure like traditional steam saunas. Steam saunas require temperatures ranging from 175°-200°F (80-95°C) to promote perspiration and some people have difficulty breathing this hot humid air. The lower heat range of 160°-175°F (70-80°C) for the FIR-Real™ sauna produces similar results (and a lower electric bill).
The softer heat of the FIR-Real™ sauna also penetrates deeper into the body (2-3 in. or 5-8 cm. deep) and draws out more toxins than a steam sauna. It is more sanitary because it will not spread and cultivate bacteria like a traditional humid sauna.
Dry heat is mold and mildew free.
Dr. Aundrea Adams of the International Institute of Holistic Healing compared the detoxification findings of FIR and steam saunas. She found that sweat generated using a steam sauna was composed of up to 97% water while sweat released after FIR sauna therapy was composed of only 80-85% water. The remaining 15-20% of sweat was composed of heavy metals, sulfuric acid, sodium, ammonia, uric acid and fat- soluble toxins.
* These statements have not been evaluated by the Food and Drug Administration. The FIR-Real™ sauna is not intended to treat, cure, prevent or diagnose any disease or ailment. DO NOT attempt to self-treat any disease with the FIR-Real™ Sauna without direct supervision of a certified physician. If you have a disease, be certain to consult with your primary-care physician before using an FIR sauna. The information contained in this site is for general information purposes only and does not address individual circumstances or medical conditions. It may not be right for you and should not be relied upon in making decisions about your health. Always consult your doctor for medical advice. No adverse affects from far infrared sauna therapy have ever been reported, even with end stage congestive heart failure patients. Nevertheless, persons with cardiovascular conditions should exercise extreme caution when exposed to prolonged heat . In all situations, hydration is a requirement for sauna use. Drinking water is recommended before and after sauna use. The core body temperature of children rises much faster than adults. This occurs due to a higher metabolic rate per body mass, limited circulatory adaptation to increased cardiac demands and the inability to regulate body temperature by sweating. Consult with the child's pediatrician before using the sauna. The FIR-Real™ sauna should not be used by hemophiliacs.
Specs
The FIR-Real™ sauna emits real far infrared rays with wavelengths between 7 and 14 micrometers (µm) or between 7,000 and 14,000 nanometers (nm), which is the beneficial range for humans (the longer penetrating waves). The Relative Emission Spectrum below shows the relative amount of infrared being emitted by the FIR- Real™ Sauna at different wavelengths. The X-axis shows the different wavelengths and the Y-axis shows the relative amount of infrared rays being emitted. The peak wavelength is 9.4 µm (9400 nm), which is exactly where water molecules vibrate. Since the human body is made up of 60% water, it absorbs infrared the best (the deepest heat penetration) at 9.4 µm. As seen in the relative emission spectrum curve below, virtually 100% of the infrared emitted from the FIR-Real™ heaters is far infrared between 4 and 14 µm.

The FIR-Real™ uses two PTC (positive temperature coefficient) type ceramic infrared heaters. These are very efficient at producing infrared, with 87% of total energy output in the form of infrared and only 13% in the form of heat.
Fans cool semiconductor chips providing for immediate and continuous far infrared emission

220 lb capacity chair.
41 in. (103 cm.) height allows a tall person to enjoy it. Other portable FIR saunas are 10% shorter -- only 37 in. (95 cm.) tall.
Footprint: 33 in. deep x 32 in. wide (84 cm. x 80 cm.) Requires little floor space unlike wood saunas, but still big enough for a large person to enjoy. Other portable FIR saunas have a depth of only 31 in. (79 cm.) or a width of only 26 in. (67 cm.)
Folded size: 41 in. x 17 in. x 2 in. (103 cm. x 43 cm. x 5 cm.)
Weighs only 22 lbs. (10 kg.) with the box or 18 lbs. (8 kgs.) without the box.
Hand held timer control with 5 foot cord allows session lengths from 0 to 30 minutes.
Operates at 100-120V. 220-240V available upon request.
Video
HEALTHandMED.com as featured on ABC's The View with DR. Gadget!

Portable Infrared Sauna Set-Up
HEALTHandMED.com donates $15 from every FIR-Real Portable Sauna purchased to help Ginger Roth, a young girl with cerebral palsy.
Testimonials
Customer Testimonials for the FIR-Real™ Sauna
"After using the FIR-Real sauna in our practice, I began to appreciate the value of heat therapy more than ever. When we treat patients with highly resistant taut bands of muscles and trigger points, their taut bands release 50% after using the FIR-Real sauna for 20 minutes. Then, when we treat them on the massage table, we are able to completely deactivate their trigger points. The FIR-Real sauna really gets you sweating, which is important for patients with myofascial pain syndromes and fibromyalgia who need to sweat more in order to aid in their recovery. I also like how the FIR-Sauna is small enough to fit in my smallest treatment room." - Sharon Sauer, CMTPT, LMT Certified Myofascial Trigger Point Therapist, Licensed Massage Therapist (Chicago, IL)


"I lost 10 pounds in the first month of using the FIR Sauna! And, I've lost 20 pounds total in 3 months and kept the weight off without changing my diet or exercise, just using the FIR Sauna on average of 3-5 times per week! Plus, I feel better and have more energy than ever before!" - Anne (Longmont, CO)


"I love my sauna…it's like having a soothing spa experience in the privacy of my own home…except for the fact that I have to wash my own towels when I'm finished. My husband LOVES my infrared sauna, because when I use it at night, I never have cold feet in bed. It has really helped our marriage." - Jeanne (Salem, UT)


"I for one know that the FIR-Real sauna really helps my patients with myofascial pain and dysfunction. I use it before every treatment I do in my sports based trigger point therapy practice. My hubby Mike loves it and we all use it here! Both of my daughters are varsity level athletes and they also use it to recover from hard workouts." Mary Biancalana, Muscle Health, Inc. (Chicago, IL)